Pages: 1 2
May 19, 2012 – DUI Jones drove his 2012 Bentley Continental GT into a pole in Binghamton, New York. Michelle L. Vojtisek and Cara Johnson, both 25, sustained cuts, bruises and swelling from the collision and were transported to Wilson Hospital for treatment, according to the report. Both airbags had been deployed during the crash. Jon Jones pleaded guilty to DUI charges. $1000 fines and ignition interlocks on all of his vehicles, had to complete a victims impact class and had his driver license suspended for six months.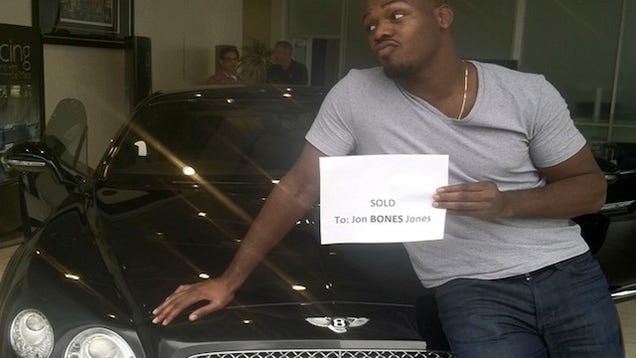 UFC 151 – canceled scheduled to premiere on September 1, 2012, was canceled due to Jones declining to fight Chael Sonnen. On April 14, 2014, Jones was accused of writing homophobic slurs to a Swedish man over Instagram. In response, Jones stated that his phone was stolen and his account was hacked.
Aug 4, 2014 – Jones Jones and Daniel Cormier altercation.
Dec 4, 2014 – cocaine  The drug test detected benzoylecgonine, the primary metabolite of cocaine. Jones went into rehab for one night. He was fined $25,000 on January 17 for violating the UFC's Athlete Code of Conduct policy.
Pre UFC 182 (Jan 3, 2015) samples Three of Jones' pre-UFC 182 drug tests have testosterone-to-epitestosterone (T/E) ratio and total testosterone level that are alarmingly low. The normal T/E ratio for an average African-American male is 1.3:1. Jones' samples showed ratios of 0.29:1, 0.35:1 and 0.19:1. Same goes for his overall testosterone levels. The three samples contained 1.8 ng/mL, 0.59 ng/mL and 4.9 ng/mL, the average level is 61.3 ng/ML. An expert calls a T/E ratio deviation greater than 30 percent a "red flag", Jones' ratio deviated around 80 percent.
April 27, 2015 – Hit and run incident According to police, witnesses said that Jones ran from a crash on Sunday that hospitalized a pregnant woman but quickly came back to grab "a large handful of cash" from the car. Marijuana pipe, condoms were later found in Jon Jones' car. Jones pleaded guilty to leaving the scene of an accident and was subsequently sentenced to up to 18 months of supervised probation. He was authorized to travel for work-related purposes. Jones met all of the conditions, which included 72 separate appearances for charity or youth outreach, avoiding a felony charge on his criminal record.
Marsh 24, 2016 – Drag racing, calls cop fucking liar and pig. He was cited for five different tickets including drag racing. He was later arrested on probation violation. Jones pleaded guilty to unlawful use of modification of exhaust systems and improper display of registration plate in court. He had to complete aggressive driving school, comply with any previous driving restrictions, complete 60 hours of community service and pay a fine of $143.
July 8, 2016 Jones tested positive for two banned substances, hydroxy-clomiphene, and Letrozole; two estrogen blockers, prior to his scheduled championship bout with Daniel Cormier at UFC 200. The violation was from an "A" sample collection on June 16, with subsequent testing of the B sample confirming the doping. As a result, Jones had to withdraw from the event and was replaced by former middleweight champion Anderson Silva. Jon Jones received a 1-year suspension from USADA.
July 28, 2017 Test sample A and B collected after weigh-ins on July 28 tested positive for Turinabol, an anabolic steroid. Jon Jones was handed a 15-month suspension after arbitration and plus three months community service. USADA based the shortened suspension on the delivery of substantial assistance and providing information on another athlete's anti-doping violation. With other words, Jones snitched. Jon Jones admitted to cocaine use throughout 2017 during USADA arbitration. Jones has admitted being a frequent user of cocaine, marijuana, and alcohol. Bragged about beating Daniel Cormier in the period he was using cocaine.
Pre UFC 232 samples Jon Jones tested positive again on the following dates for Turinabol. Jon Jones, UFS and USADA blamed these positive results are due to the July 28, 2017, positive test. Aug 29, 2018 Sep 18, 2018 Dec 9, 2018
Pages: 1 2